March 17, Dripping Springs to Austin
Meet Geoff Cline and his lovely and genius wife Sally. They are our hosts in the hill country, with an ultra modern eco house on a bluff over the Pedernales river an hour southwest of Austin in the rolling juniper and oak cattle ranch country. After our first night in town, Geoff leads us on dark highways through and past Dripping springs, down 2 lane semi-paved and dirt roads across flash flood channels, past the 1971 site of Willie Nelson's first 28,000 strong hippie Picnic, as bunnies and herds of deer flee our headlights into the brush. A final left on Rabbit Run and Turkey, and we reach the compound.Geoff and Sally show us around the house, designed from scratch by Sally, who also made the iron beam front gate, all the fixtures, much of the textile work, and laid all the tile. She also has an advanced political science degree in Nuclear Strategy and was courted by the NSA. Geoff is a slacker underachiever by comparison, a singer/songwriter guitarist who was chief counsel for Patagonia for eight years (before launching Sovereign Records, who financed the Hawks new CD before entering financial limbo). Where do these people find the time?
The Cline house is three stories of intriguing irregularly angled rooms, has a rainwater system for collecting drinking water, will have solar panels, and has many cozy areas for viewing Lance Armstrong's distant mansion carved ostentatiously into the trees, or contemplating the undisturbed river bluffs below. Sally may have gone too far when she placed a 25 foot high bookshelf shaft in the middle of the house, accessible only by a mechanical hoists that lifts the seeker of knowledge in a harness to the dizzying heights of the library shaft. Next morning we woke in our usual order (Paul M, Paul L, last two not named for privacy reasons), had a Cline breakfast, and checked out the nearby pointing tree, shaped by Indians so that it points out to the river below.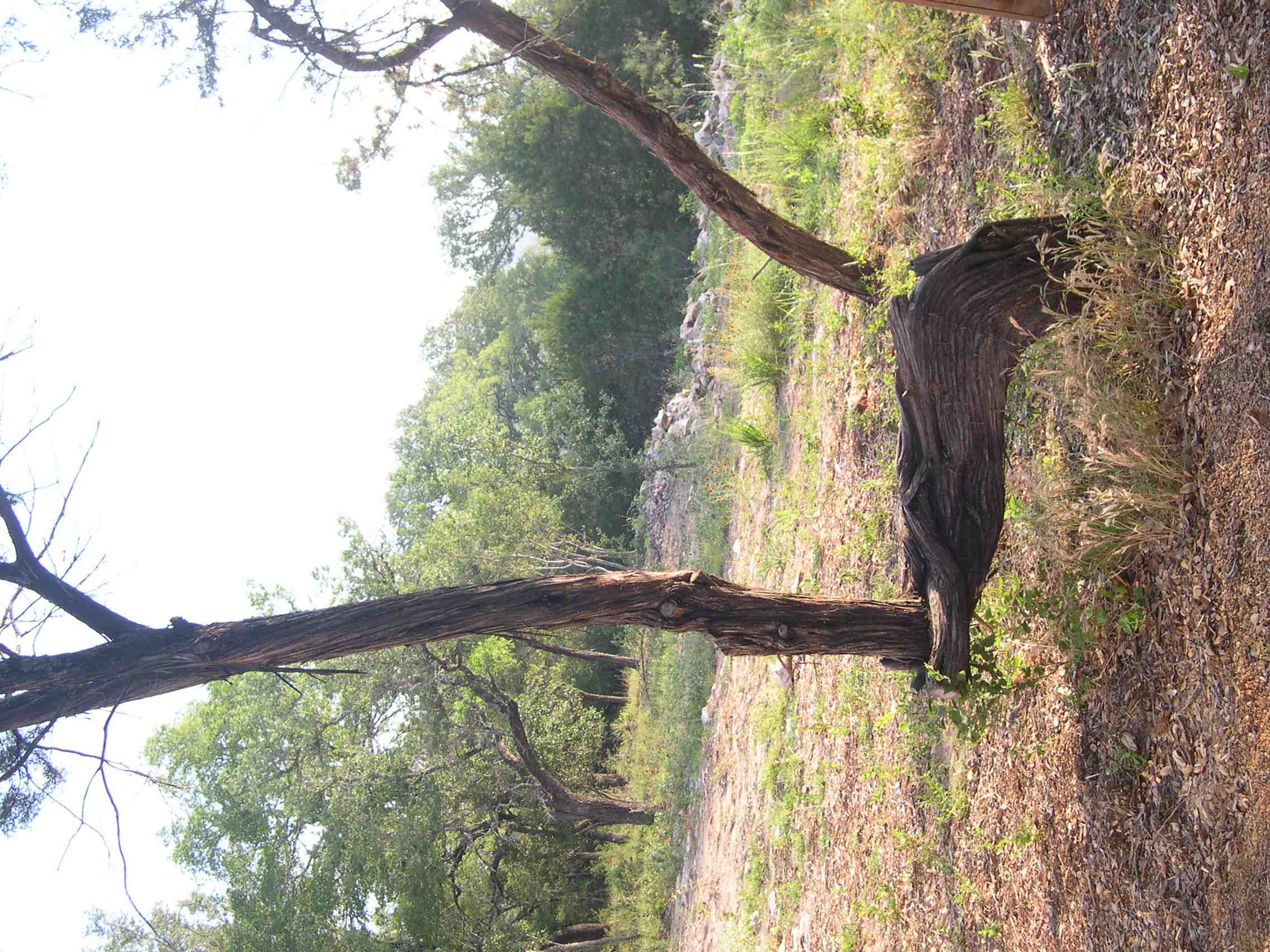 The Hawks wandered down the bluff with Geoff to the Pedernales, an ever changing flow now at low ebb from a long drought, with twigs in the trees 15 feet above showing the high water mark. It was easy to imagine cowboys chasing stray calves out of the river sand, and Indians hunting antelopes.
After much wandering through the brush, it was somehow time to head into Austin for our next show. We hit heavy traffic and badge wearing revelers on 6th Street arrived just in time, of course, under brooding late afternoon skies, at Opal Divine's Treehouse, where an official SXSW Irish band played at one side, Kinky Friedman for Governor tables sat in the middle, and unofficial country rock entertained on the street side patio. This was full immersion in SXSW hoopla. We set up on the patio, greeting our publicist and bon vivant Susan Clary, and our record promotion man David Avery from Powderfinger. Now this is the way to do biz, with everyone lubricated on Shiner Beer and who knows what else. Our good pal Rick Shea played guitar with us and bumped up our sound to the stadium country rock we so crave for outdoor shows. (Paul L and Rick look like stereo images on stage, left and right handed battered telecasters or Martin D-18's and long gray hair. We didn't plan this.) The crowd gathered from the teeming masses on 6th street below, and we had a real good time.
Shawn and Rick Shea dashed off with Paul M and Rob and Paul L had burritos on the river with L.A. friends Doran and Cisco and friends, then drove off to the funkiest honky tonk we'd ever seen, Jenny's Little Longhorn, on a street so ugly it could have been West L.A. Inside James Intveld had put together a honky tonk super group, with Rick Shea, Shawn, and a rock solid superfunky bass player and virtuoso steel player. This was a new level for James's music, as good a country unit as ever played. No exaggeration. The crowd, which included some serious country swing dancers, was transfixed for 2 hours. James did his effortless crooning and introduced all waitresses by name. This is what music used to be all about, and occasionally still is: making people feel good.
How did we get home to Chez Cline, down highways and biways into the dark hills? That is a bit of a mystery, but we did. It was not long before Texas dawn, which we missed.