March 16, Houston to Austin
The Hawks do not like to arrive hours before any event. We like to pull up to the club, heave the amps and drums out of the car, and rush on stage. This eliminates time for making set lists (although it might be possible to concoct one on a three hour interstate drive–naah) and boosts us into a floating free form state, and inner voices tell us which song to play next.Such was the case on this cloudy Thursday in the great state of Texas. Rousing ourselves around 10 a.m. from the comfort of the Comfort Inn on Katy Highway in outer Houston (it's all outer), we piled in the Pontiac Montana (more about that later) and drove the fairly crowded I-10 west to Highway 71, northwest through eccentrically (eccentricly?) littered scrub and pasture land. Littered with strange buildings, unmotivated stone walls, mysterious abandoned ranches. The junk of Texas is filled with voodoo, unlike California's junk, which is so clearly money driven.
There is almost no food on this stretch of highway. We were holding out for a Waffle House, feeling utterly confident in this quick and tasty stop. Nope. For hours we drove, past La Grange and less storied towns lurking somewhere behind the listless woods. Hunger set in, and despair, and dark thoughts. We settled for a uniquely Texan brand of mediocre diner all day breakfast, served by a waitress with piercing and accusatory pale blue eyes and a heart of gold.Adequately nourished, we arrived in Austin with not a moment to spare. A false move on the SXSW clogged streets and we'd miss our 1 p.m. Sin City Social Club slot. We pulled into the dirt lot mellow anarchy of Maria's Taco Express, changed into our country rock duds, jumped on the outdoor wood stage, acquainted ourselves with strange gear (Traynor amp, not a bad Fender imitation!) and did a 20 minute set, which was very well received, much whooping and hollering, and we felt right at home.
Shilah and Bryson did a great funky job, great vibes were in the dusty air, and these are the best tacos the Hawks have collectively sampled. Maria's Taco Xpress on South Lamar, you got to go.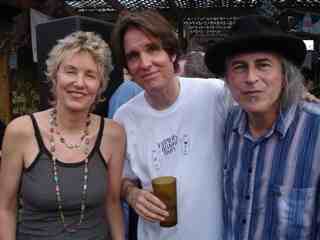 Paul L and 2/3 of the Gilkysons
L.A. country rock supergroup Mike Stinson/Tony Gilkyson/Randy Weeks took the stage and knocked the crowd flat, first of four shows we'd do with our SoCal brethren. We got to meet WM Smith, writer for the Houston Press and our patron saint for this trip, hung with our L.A. compatriots and new friends for too long, borrowed all of Mike Stinson's band gear (he and Tony drove out, now that's a man), then raced to the Hole In The Wall across town, where they must be used to our last minute appearance by now.After a bright eyed revival of roots country by a young band whose name will be recalled eventually, we did a short set for the SXSWers and our local friends Steve and Dana, who are off for San Antonio and Amsterdam respectively, then raced out into the night to return Mike Stinson's gear for his late night show in a coffee house that looks to be carved out of deep hill country woods. Of course it was night.
We bade farewell to Tony, Randy, and Mike, and drove through the night, south west, to a little piece of paradise on the Pedernales River.