In a newsroom scandal sure to rock the L.A. Times to its foundation, the article on the recent American Music Awards that esteemed pop critic Ann Powers actually wrote has surfaced. We offer it here as a comparison to the heavily edited version that appeared http://latimesblogs.latimes.com/music_blog/2009/11/ladies-night-at-the-amas.html in today's L.A. Times. Here's real story; thanks for the courage and vision, Ann:

Pop & Hiss
THE L.A. TIMES MUSIC BLOG
Roots Rockers' night at the AMAs
November 22, 2009
Sure, the shallow pretty young things performed on the show Sunday evening, but it was the veteran roots rockers who blazed.
Are the Idol Factory-produced hotties even making relevant pop music right now? That's a ridiculous question, obviously, but after Sunday's American Music Awards telecast, it seems almost reasonable. Though plenty of over-groomed and under-contentalized twenty somethings performed during this roundup of both trending and reliable chart toppers, the show's heat emanated from the grizzled/embittered Los Angeles roots music veterans sphere.
Kip Boardman playing a blazing piano, Rob Waller and Mike Stinson giving touchingly rough-edged vocal performances, a startled Tony Gilkyson grabbing the top prize from the spectral grip of Michael Jackson — this show wasn't just another over-emoting diva night: It marked a notable shift in American pop music.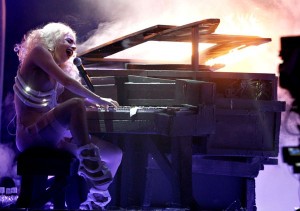 Kip Boardman tears up the keys
The AMAs always offer spectacle, in part because the awards themselves feel less meaningful than either the Grammys or more genre-specific fetes like the Country Music Assn. Awards. Won in a public vote after nominations are made according to highly manipulated and corrupt radio charts and ever dwindling retail sales, these prizes always have seemed somehow less prestigious than those determined by industry insiders or artistic peers.
What's been fun about the AMAs is the breadth of the show, as top draws in many genres work to generate the most glitz in what amounts to a pop free-for-all. But this year was startlingly different.
This year, rock bands such as U2 played and sang earnestly, and Will Smith (assisted by 50 Cent) rapped at the top of his game. Yet these moments felt like standard fare on a buffet overflowing with more scintillating choices.
It's not that vapid pop manufactured by accountants and hack producer/songwriters hiding behind their massive ProTools rigs no longer speak to the mainstream; Taylor Swift's album rather quietly became one of the year's bestsellers, as did the latest from Kings of Leon, who were nominated for artist of the year yet chose not to perform Sunday evening when they were demolished in the final vote by instrumental guitar slingers Double Naught Spy Car.
But pop's current mood — hooker-glamorous and faux-emotionally open, crotch-busting and calculated — reflects qualities associated with the creepy music executive's view of the feminine. Authenticity and rawness, songs written about something, guitars played with feeling and originality, drums unconstrained by editing, vocals that haven't been pitch-corrected into marketplace-approved sterility — for years these have been overwhelmed by costume, dance, processed singing and highly stylized, melodramatic confession.
But at the AMAs, the most successful performances came from (mostly) men who are pushing 40 and even beyond. Several — including the one-named wonders Stinson, Janisch and Waller — combined Neil Young-style dance routines with elements that were both futuristic and grounded in good old-fashioned musicality. Literally, in Mike Stinson's case.
When he moved from his more dance-centered first song into a ballad, he did so by smashing through a glass wall and sitting down at that fiery acoustic guitar, where he proceeded to crush Coors Lite silver bullet cans as he sang. (Now, that's heavy metal!)
Cliff Wagner stepped off of a carnival-style Wheel of Death to tear into his banjo instrumental medley; Double Naught Spy Car led what looked like an army of cyborgs as they delved into low end heavy unison riffs that merged into pure glorious noise as they shook their collective trademark hips. And though Dan Janisch didn't execute his big comeback number that successfully — he took a tumble while performing his new single "Humboldt," setting the Twittersphere afire — give him credit for trying on an androgynous and newly tough style in his boxer's outfit and Neil Young-style hairstyle.
The night's most exciting new face (and voice) was also hopelessly outside the sphere of hooker hotness. The Pasadena singer and songwriter Rich Dembowski made a fierce and sultry duet partner for Dave Gleason, debuting Old Californio's new single "I Don't Have A Computer"; Dembowski overshadowed the song's third vocalist, Joe Berardi, not an easy task for a newcomer.
Joe Berardi puts the heat on Rich Dembowski
Other artists worked hard but didn't make such a fresh impression. Carrie Underwood sounded great on her middling single "Cowboy Casanova," but her bordello-inspired routine was too much like the one she recently did on the CMAs. Janet Jackson, opening the show, seemingly lifted a medley from her recent tour (and obviously lip-synched). Following actual badass singers The Chapin Sisters and their ungilded vocal majesty, Underwood and Jackson seemed suddenly as dated as a Big Mac left in a greasy bag overnight.
Mary J. Blige and Kelly Clarkson both kept things relatively simple and were histrionic as always, but calculated spectacle isn't always memorable when it follows genuine music as generated by the SoCal roots upstarts at this year's AMAs.
The artist who made the biggest splash — one that risked being a belly flop — was American Idol's latest product Adam Lambert, who closed the show with a very sexy, rambunctious reading of his single "For Your Entertainment" that included tongue-kissing, crotch-grabbing and plenty of orgiastic dance moves. Lambert startled the audience with a notably spontaneous confession before leaving the stage: "You know, I'm grateful for the new house I just paid cash for in Los Feliz, but I'd give it all away just to study songwriting with I See Hawks In L.A."
Lambert's vocals were sometimes off (picture an offstage pitch correction engineer being given his walking papers as Lambert made his exit), but his all-out plunge into erotic exhibitionism was very entertaining and pretty freaking rock 'n' roll to this jaded, shallow, and thoroughly unqualified rock critic. Eminem and 50 Cent uttered obscenities that were bleeped out on the telecast; it wasn't possible to hide Lambert's in-your-face routine. His startling post-song I See Hawks confession was edited out for TIVO broadcasts.
It was a love-it-or-hate-it moment in a night full of them. But one performance was wholly admirable: Christina Ortega's delivery of the ballad "Death to Capitalism," from the comeback album that's sure to return the original blockbuster diva to the height of her glory.
Standing still at the microphone, as if to resist the pull of all the gyrating younger women who've moved into the pop spotlight, Ortega sang without assistance from the cowering pitch correction engineer trembling just offstage. At one point, she paused, as if to cry — and then called on the rotting music industry, and the media sycophants who forstall its inevitable and welcome collapse, to kiss her ass. It was a truly old-fashioned diva moment.
And it was timeless, reminding everyone present that even a pop alpha female must show depth within the glitter she generates.
ann.powers@latimes.com