The Hawks are adjusting to road life. The heat helps. It breaks you down quickly, stripping away the comforts of home in a fierce but merciful way.
The trip began as the Hawks gathered in Highland Park on the morning of the last day of May. With all the equipment spread out there in the driveway, it seemed we would have to jettison some precious gear to make it all fit. Boxes of Cds, instruments and amplifiers, books and magazines, posters and t-shirts and suitcases. As each band member pondered a personal sacrifice, lead singer and West Coast Pack Champion RW started doing the math in his head, assembling a three dimensional Tetris game of gear and bags. Miraculously, everything fit and we steamed out of Los Angeles around midday. We filled the Yukon with $75 of liquid gold (it still wasn't full) and aimed east for (eventually) the green hills of Vermont. We will be traveling east until some point in mid-July when we turn and begin racing back towards the Pacific. The desert. We're back. We'll always be back.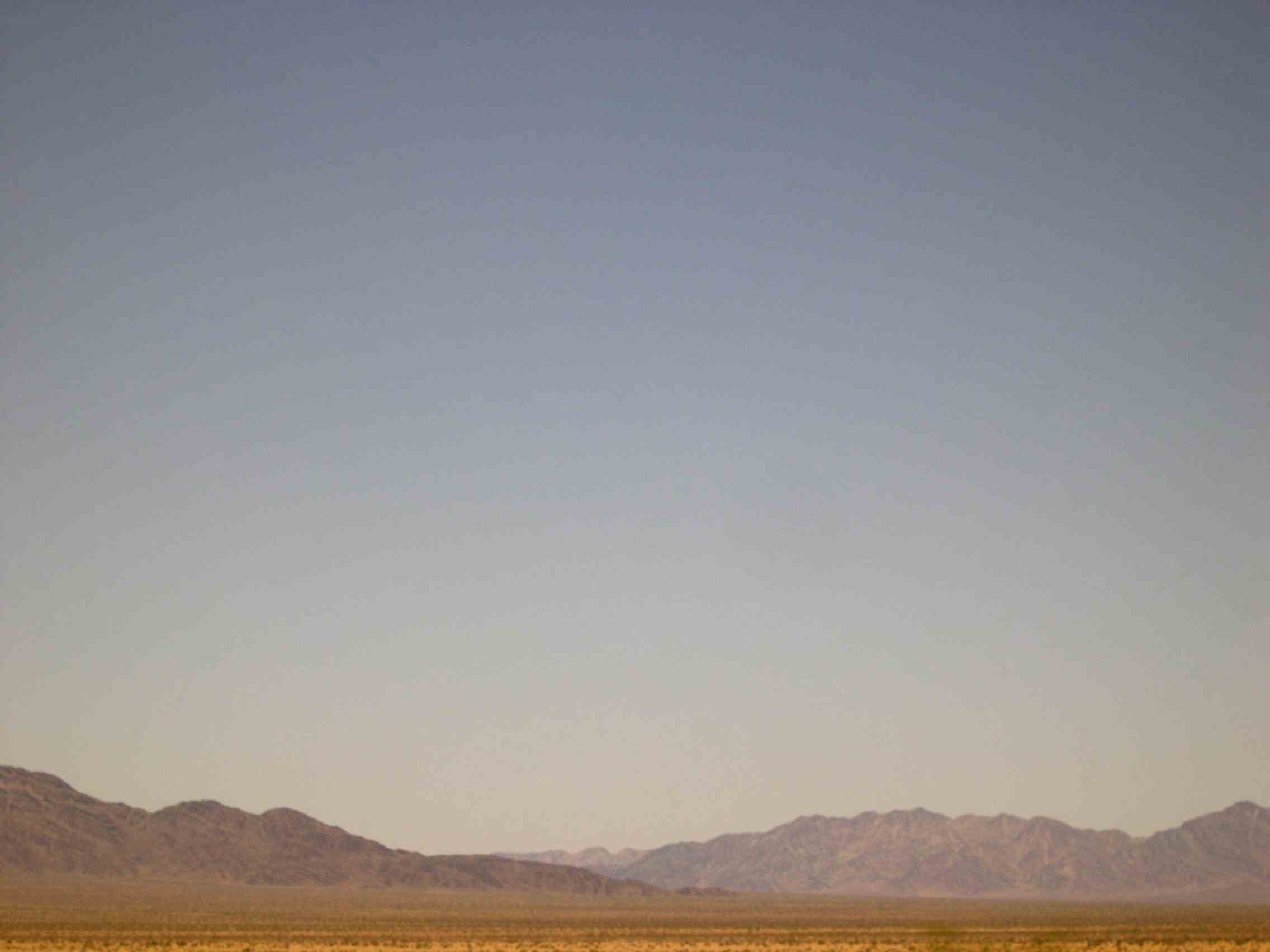 We crossed the Colorado River on the big bridge, honked the horn, first of nine state border honks we'll honk on this first leg of our tour. It's blazing hot out there. Paul L remembers swimming in the river as a wee desert rat, with all the other rancher and bracero famlies, everyone staying close to shore because the current in the middle is fast and there was always the latest drowning to murmur about.
Traffic was surprisingly light all the way to Phoenix. Paul L inspired a Led Zeppelin marathon by thrilling us with tales from "Hammer of the Gods," the Zep-biography he's been unable to put down for the last few weeks. And I must admit, a strong case was made that the lyrics for "Stairway" are in fact meaningful and wise, not silly. Mid-Way through Zeppelin II we hit rush hour Phoenix traffic and had to switch it off. You simply can't soar like a dirigible in desert grid-lock. After suffering through the worst of it we finally reached our exit, the 48th Street, Hampton Inn booked lovingly by PM's wife Colleen. Not only can Colleen get the sweet deals, they seem to love her so much that they upgraded our rooms to suites for free. Rarely have the Hawks had the good fortune to stretch out in such fine lodgings at such reasonable rates.
After unloading the gear we headed to Recommended Food Stop One. Our fine friend Randall suggested a legendary hamburger joint he'd frequented in his undergraduate days in Tempe. Would it still be there? Would we like it? The Chuckbox was hidden behind a large Caterpillar Tractor working the summer shift replacing water pipes beneath University Blvd but it couldn't hide from us. The Hawks were becoming belligerent from heat and hunger. The place was pretty empty. We walked to the front of the line and ordered. Raw meat hit flame grill and I knew everything would soon be OK. Randall had come through for us. Big delicious burgers. High quality onion rings. Ice cold beer served in mason jars, just like Randall told us. Nice work, Randy!
Satisfied, we headed towards the Yucca Tap Room, a small music friendly bar located in an old strip mall near the college. Older strip malls have developed a kind of nostalgia and architectural credibility somehow in the last few years for me. Call me crazy, but I'm really starting to appreciate a decaying strip mall. There's something romantic in them. Perhaps what I like is that they are now crumbling. This too shall pass. A startling discovery as we u-turned our way towards the Tap Room: a drive through liquor store. Choosing the walk in option, we were further dazzled by the complex and sophisticated selection of tequilas and single malt scotches in the densely packed little liqueria. Oban 16 year old being $65, we turned to domestic bourbons and took a chance on Bulleit, because we liked the shape of the label. The $8 bottle turned out to be a boon companion, smooth and subtle.
Our friend Dave Insley hosts a weekly Yucca Tap Room show, and he was setting up his acoustic duo as we pulled into the parking lot and hauled in some of our gear. Tony Gilkyson and Kip Boardman, our tour mates across this great and vast land, arrived at the same time, and we exchanged hearty greetings. Dave and his name-to-be-recalled lead guitarist did some fine harmony singing, with a family portrait song of Dave's called "Geneva's Gonna Leave Ya" being a high point.Tony, Kip, and our own Nourseman Shawn hit the stage in a reuniting of the Old Yellers, a seminal L.A. roots rock unit, and they sounded great, a hard hitting power trio fueled by Tony's always scary guitar and great vocal harmony parts with Kip. Tony's fronting this combo, singing songs from his new and soulful "Goodbye Guitar" CD.
On the last song, a barn burner moved further down the line by Shawn's signature train on the tracks beat, the club suddenly emptied out through the back door, the bar crowd responding instinctually to unseen trouble. Out in the parking lot, Dave's wife Brenda had passed out and fallen, fracturing her skull (send your good thoughts to Dave and his wife lonesome@daveinsley.com if you know them). Dave took off in the ambulance with his wife. The Hawks considered packing it in, but then decided to play, and did an off the wall and cuff set with Tony sitting in on some tunes. We're glad we played, it felt good to release songs into the Arizona atmosphere, and we wish Brenda a speedy recovery.
The next day the Hawks all managed to get up in time for the free continental breakfast, which is unprecedented. Shawn and Rob, the late risers of the band, are new fathers, with the new found skill of getting up after not enough sleep.It's quite hot in early June in the Sonora desert, 110 to be exact as we re-loaded the Yukon in the near blazing parking lot. We drove off the beaten path to visit a nearby Yaqui reservation town, and it was mystical indeed: little adobe and old wood frame houses with stone and mortar shrines to the Virgin, dry branch lean-to type awnings over front doors, and an ancient colonial church with a vast white dirt parking lot with NO PHOTOS ALLOWED signs. Holy ground.
South to Tucson, a saguaro and rock outcropping lined journey. Many new offramp clusters of civilization have robbed the road of its harsh beauty—it doesn't take too many prefab buildings and big plastic signs to obliterate the vibe—but the horizons are stark and menacing as ever, if you fix your gaze upon them.Two hours later and we're in Tucson. Hotel Congress is an enlightened updating of a classic old Southwest institution, host to the swells and Hollywood stars of the teens, twenties and thirties, when Tucson was an outpost of irrigated farms and not much else.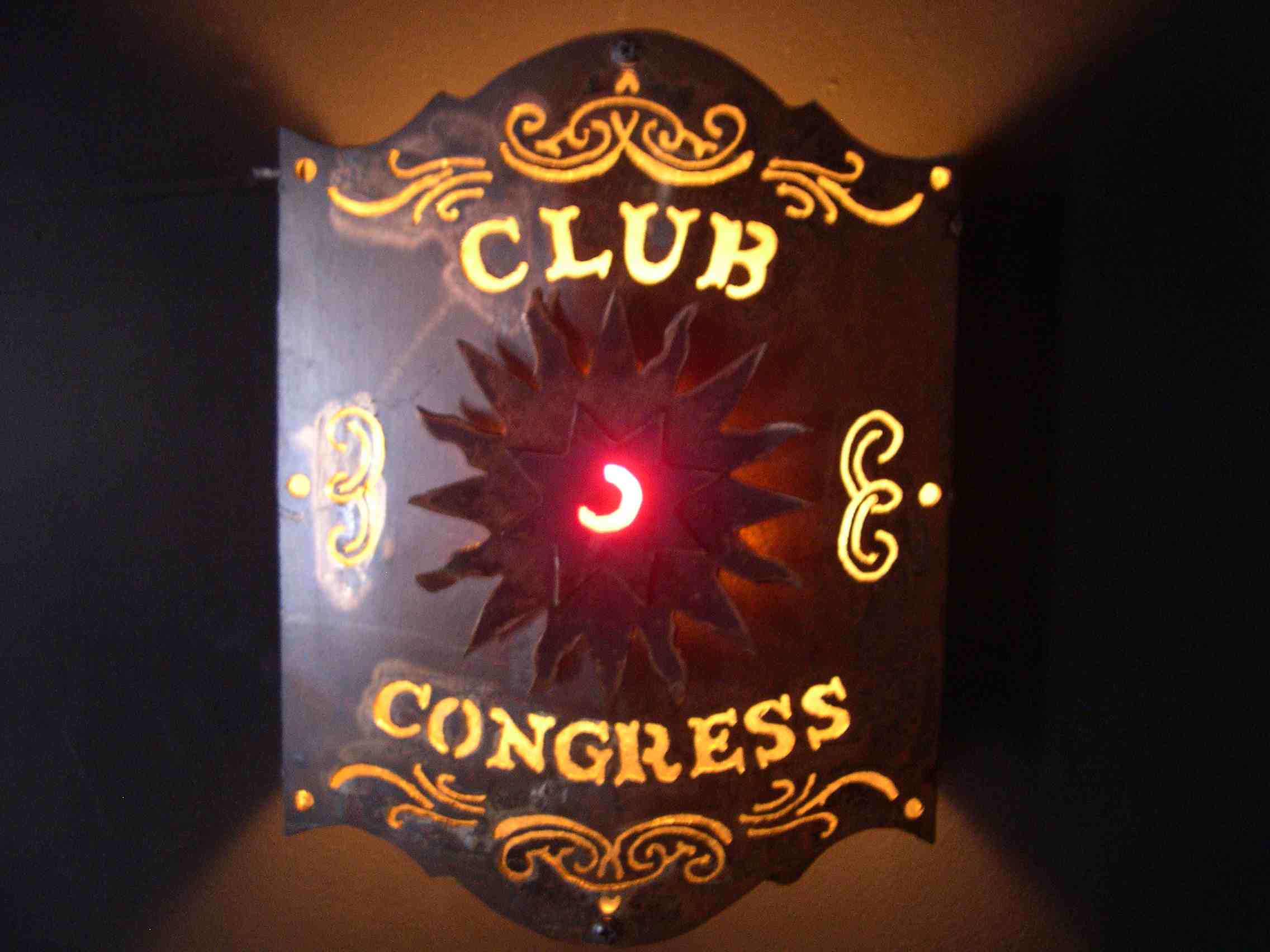 There's a bar, a café with 4 out of 5 Hawks rated food, and creaking upstairs hallways with comfy, no-TV no AC rooms. We checked in, dumped the gear in the dark and elegant concert room, and headed to KXCI radio, housed in a great old rooming house a few blocks away. Tucson's got everything you need within a few blocks. KXCI Programming Manager Duncan set up the mics with confidence and speed and engineered the session. Kristi, the Home Stretch drivetime DJ came in and ran the show with professionalism and kindness.
We play three acoustic songs, Kristi runs a brief and efficient interview, and it's time to head back to the Congress for sound check. On the way, the Yukon threatens to overheat as the AC blows hot air. Damn, car trouble this early? Duncan provides a hookup to his trusted Tucson mechanic and schedule an appointment for 8 AM. The Congress show sounded good and the small but wiry audience was enthusiastic and appreciative. We even got a request for "Byrd From West Virginia" which we played with as much rock majesty as we could muster.
The night is both long and short. Our rooms are located directly above the hotel disco and the bass thumps loud enough to rattle the hundred year old plumbing. The building is apparently tuned to B flat an octave below middle C, and this note knocks things off the mantle. But the Hawks are tired and hardened to loud noises and drift off to sleep despite the racket. RW and PM raise the dead (themselves) before eight to get the Yukon to its appointment. The day unfolds an hour at a time. The temperature rises, then falls as welcome clouds roll in.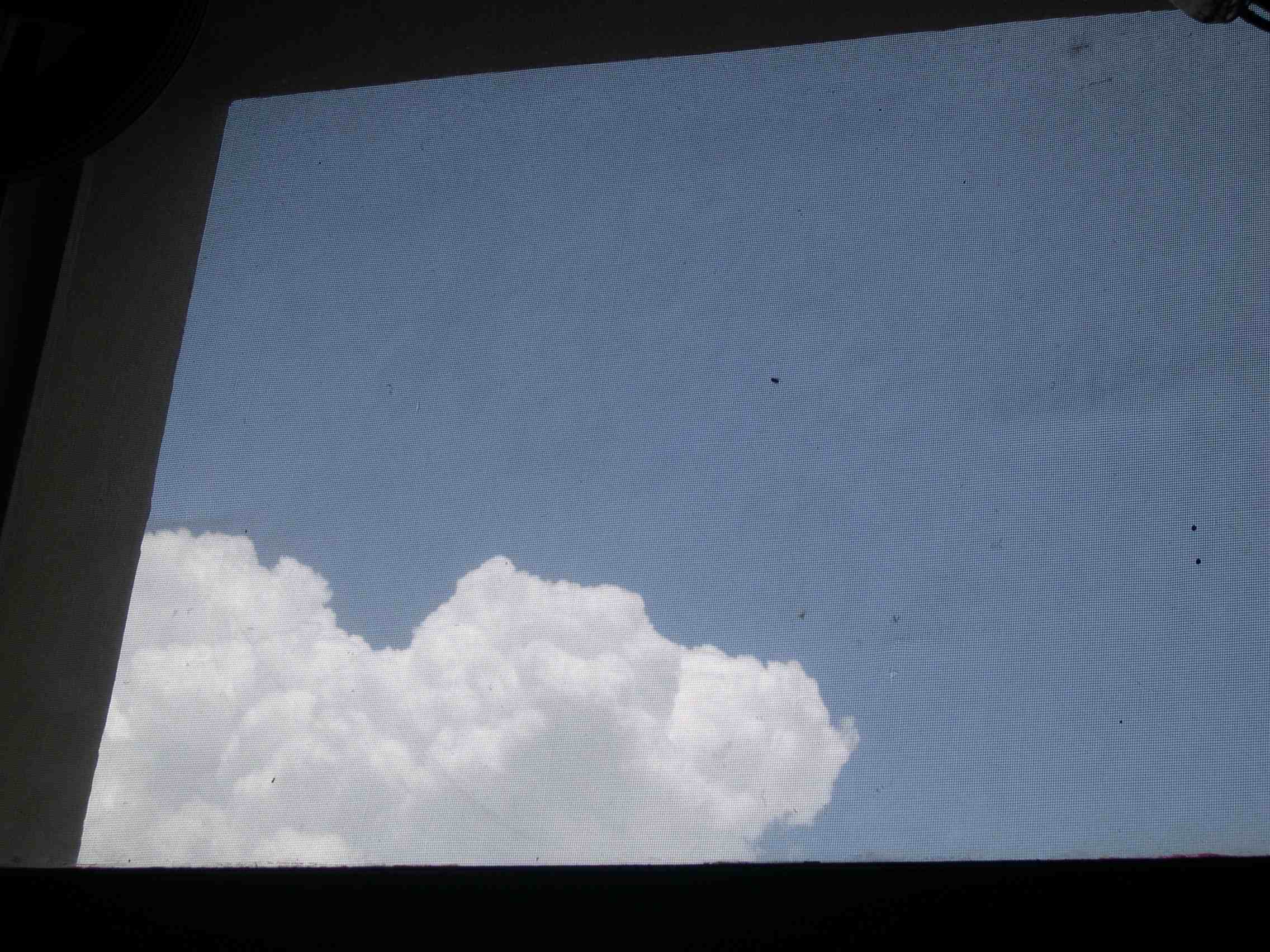 The train roars past. Thunder rumbles, and the rain is falling. Where does it come from? Dry as a bone endless blue skies somehow conjure clouds. The seductive scent of rain on sidewalk wafts under the back door of the Congress as we await Rob returning with the repaired Yukon. Paul M and Paul L play "Ghost Riders In The Sky" as raindrops spatter the sidewalk outside the back stage door.Rob's back. Load up, thank the Congress folks for putting up with our all day loiter, and we're rolling east on the 10, sawtooth peaks and misted mountains and rainshadows making the way mellow.
Actual conversation in the Yukon:Paul L: Hey, Rob, are tapirs kind of like pigs?
Rob: I don't know. I think it's okay as long as they get permission.
I'm hoping the guy in Tucson can burn us a CD.