While the West, which is located east of California, burns, it's been pretty mellow weather here in the Southland. A few scattered fires in the hills, and just hot enough to remind you that it's summer, and you've got to get out for those long languid evenings.

Our languid evening Sunday last was spent trying to find parking for The Echo on Sunset in Echo Park, EP being inundated by visitors to the strange and quaint Lotus Festival on the lake shore to the south.**
We had time for a quick soundcheck and then the Hawks were onstage backing up Christina Ortega and her longtime great guitarist/mandolinist Tom Corbett, their first L.A. show in a while. The Hawks and fiddler Cliff Wagner bumped up the Tejano-Bluegrass mix of tunes, including "Tu Solo Tu" "Milk Cow Blues," and "Corrido de Dolores Huerta," to wall of sound status, if we do say so ourselves, and the crowd, which was already packed out well before sundown, called Christina and friends back for an encore. Christina, let's do it again. Old Californio, led by the mysterious and mojo filled Rich Dembowski, is the happening new band on the L.A. Americana scene. If one must compare, think Bad Company meets The Band, with thoughtful lyrics, long guitar solos that count, a funky brainy sound. They've got a well deserved big following after only a few live shows, and their middle slot set riveted the room.
The Hawks closed out with another great Grand Ole Echo set. This funky room is really starting to feel like home. Wall to wall fans, request yells duly honored, a rocking show, with Cliff joining the band halfway through, playing brilliantly. Tom Corbett and the irrepressible Juke Logan joined the wall of men for encore song "Wonder Valley," with Cliff burning through Orange Blossom Special midway through the journey. Summer west of the West.On the next two languid evenings the Hawks repaired to drummer Shawn's hillside home studio and finished five more tracks for our new CD, including unabashed hippie wanderer love paean "Gettin Home Tonight," and we're done with basics. A toast with McCallan's 18 year old, tasting a bit youthful for its years, and our next move is recording pedal steel wizard Dave Zirbel this coming Saturday and Sunday. A groove oriented July so far!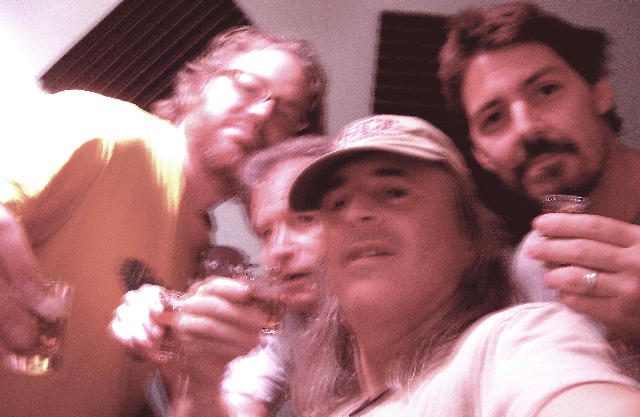 **check out Michael Webster's song "Lotus Festival" for an acid tinged journey through the lakeside festivities