Charlotte, North Carolina
Fifteen or twenty years ago, the Charlotte, N.C. skyline was desperate for a style. New money and global banking had arrived for good in this city competing with Atlanta for financial capitol of the New South. Blueprints for banking towers stacked up on bankers' desks. What would they choose to skin the steel and concrete bones of their skyscrapers with? Classic art deco? Edgy modern computer shapes a la Frank Gehry? Straight and modest Minneapolis glass? No, they would choose the strange neo-gothic Batman like magic of a Tim Burton film. The result is a scary, cold, artificial skyline that just plain creeps the Hawks out.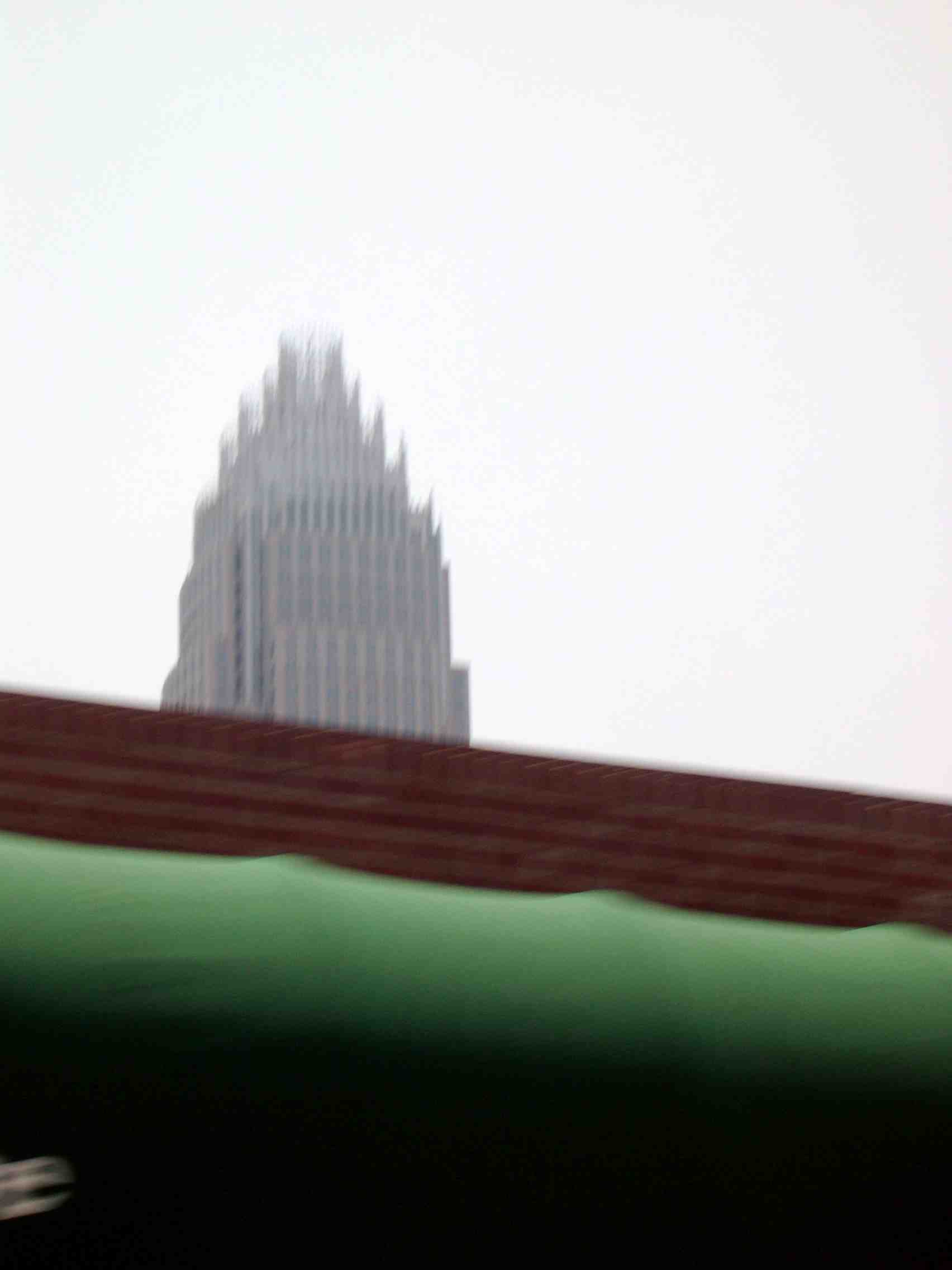 The gig is far from the downtown center in a gentrifying section of the old industrial part of town. It's better, much better, than downtown but it's still a little freaky. There's a mish-mash of restaurants and bars which borrow cultural themes from across the globe: fish tacos here, Cajun stews there, a Chinese restaurant seemingly owned and operated by 20-something white hipster kids. Outside, a drum circle has formed. Hot teen chicks in '80s style Madonna outfits stand on the edges smoking cigarettes in the black bras and white t-shirts as the ignore their amateur drumming boyfriends. Son, do you have a license for that djembe? We carry our amps and guitars by them, living in an entirely separate reality. Do these teens listen to acoustic music?
As we arrive the Evening Muse, our home for the night, is over flowing. A group of women with five or six acoustic guitars and one snare drum are on the stage singing to an entranced, nearly all female crowd. It doesn't seem like this crowd will be hanging for our set. But we are wrong. Once again, we are reminded that we don't know anything about anything. And there are Hawks fans there too. Some request songs before we play. A few tie-dyes are in attendance. The tough thing is the sound. It's a big brick room with high ceilings and they like their music loud. We're battered by the monitor mix and struggle simply to know where we are in the song. Communication between band members is nearly impossible. We have to land the plane on instinct and instruments alone. Luckily, our training has prepared us for this. After the show we try to land some fish tacos but they're closed. We follow some directions, scrawled on a napkin by a drunk, to an all-nite diner. When our waitress isn't crying to herself at the table in the corner, she's eerily maternal over at ours. But the biscuits are top notch. PM even boldly orders livermush. We fill our bellies and make it somehow back to our hotel downtown amid the freaky gothic scrapers. Weird night. Strange town.