The time has come for a rare granting of the I See Hawks in L.A. Lifetime Achievement Award. This award is given, well, not necessarily every year but only when the honoree has given so much to the cultural life of the city of Los Angeles that the award is merited. We have chosen this year to honor the legendary Vin Scully. Such an artist is a rare and wonderful thing to behold. Really, deeply, does Los Angeles even deserve such a talent? Have we really earned in? I hope so. I do.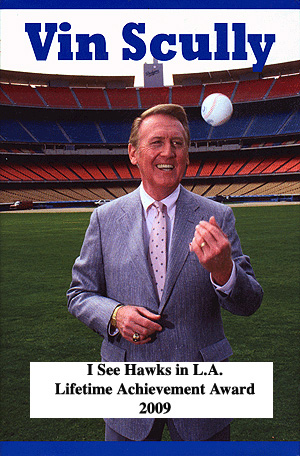 For my colleagues in the Hawks, three California natives, Scully is embedded in their earliest childhood memories, along with being weaned and learning to talk. He predates television for one of them.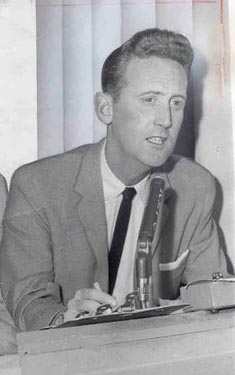 How can Vin Scully, a man in his 80s, still be so on top of the game? The lineups of these teams are constantly changing yet Vin seems to know a least one or two stories about each player's life and careers. And he is able to do this seeming without scripting. He just knows this stuff, he knows the game of baseball as well as anyone of any age. It's like if Kobe Bryant were scoring 30 points a game every night well into his 40s. That seems a reasonable comparison to what Vin is able to do.
It is all delivered with such class, such a genuine sympathy is his voice. A sympathy for the human condition. He makes life bearable. At least he makes Los Angeles bearable. When Vin goes, I may likely go too. That might just be it for me and Los Angeles.