I See Hawks In L.A. & Great Willow release "Radio Keeps Me On The Ground" acoustic/electric single about coronavirus crisis
May 22 2020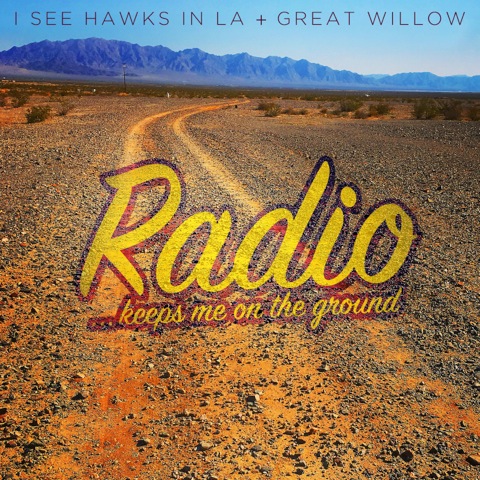 digital only release all streaming & download platforms (iTunes, Amazon, Spotify, etc)
It started with an invitation from DJ Nic Harcourt at premier L.A. Americana radio station KCSN 88.5 FM:   collaborate on a coronavirus themed song with your musical friends, make healing music for these upended times.  A project called #TogetherTunes              
I See Hawks In L.A. and fellow Los Angeles folkies Great Willow have a longstanding mutual admiration society, and when James Combs of the Willow invited the Hawks to collaborate, they jumped on it.
Writing and recording by email has been interesting.
James and Hawks guitarist/songwriter Paul Lacques traded song ideas and came up with two very different sketches based on Paul's chorus hook. Interesting. Now we had two songs. Hawks singer/songwriter Rob Waller climbed aboard on a glitchy Facetime session with Paul, wrestling the two versions into verses and bridges, came up with a few more lines, and voila: "Radio Keeps Me On The Ground."
What started with lyrics addressing our upended lives turned into a love letter to radio, the constant in our lives pre and post crisis, the magic in the air, the aether, the wide open.
James recorded acoustic guitars and lead vocals, cyber sent his tracks to Paul, who cut his electric and steel, with Hawks drummer Victoria adding drums and vocals, in their Highland Park studio. Rob and bassist Paul Marshall cut and emailed their tracks, with some sweet organ added by GW's Ed Barguiarena. Four time Grammy winner Alfonso Rodenas mixed and mastered. A classic country rock sound resulted, emerging with soul from its digital realm.
Just for fun, we did a more ethereal acoustic (Datura version) of the song, resulting in a two song electric/acoustic single.
"Radio Keeps Me On The Ground" addresses the crisis as viewed from our windows and screens, contrasting the limitations of today with the freedom of the road of just yesterday. But no matter how bombarded we are by the reality of the streets or the info overload of the web we all live by, there's always radio. In our backyards or kitchens, it keeps us real. On the ground.
www.iseehawks.com contact Paul: lacques at sonic.net
www.greatwillowmusic.com
contact James: jamescombsmusic at me.com
RADIO KEEPS ME ON THE GROUND Lacques/Combs/Waller
It's never been easier
To lose your mind
Rabbit holes in the cloud
You don't even have to try
You don't have to cry
Or walk on by
Radio keeps me on the ground
Radio keeps me on the ground
There's never been a lonelier time
To learn to breathe in a way
That you won't have to fly
Be fertile in this empty time
This will pass
By and by
Radio keeps me on the ground
Radio keeps me on the ground
A stranger's voice
An invisible wind
Your almost friend
He's almost you, you're almost him
Yeah, she's almost you
You're almost you
But it's different
On the road unsigned
Unknown frequencies
A twist of the dial
Unknown frequencies
A twist of the dial
Radio keeps me on the ground
Radio keeps me on the ground