Lafayette, Louisiana June 11
The Blue Moon Saloon and Guest house is quite a place. Located in an old two story Victorian with a wide wrap-around porch and expansive grounds, it's quite a bit different from the city club scene we're used to.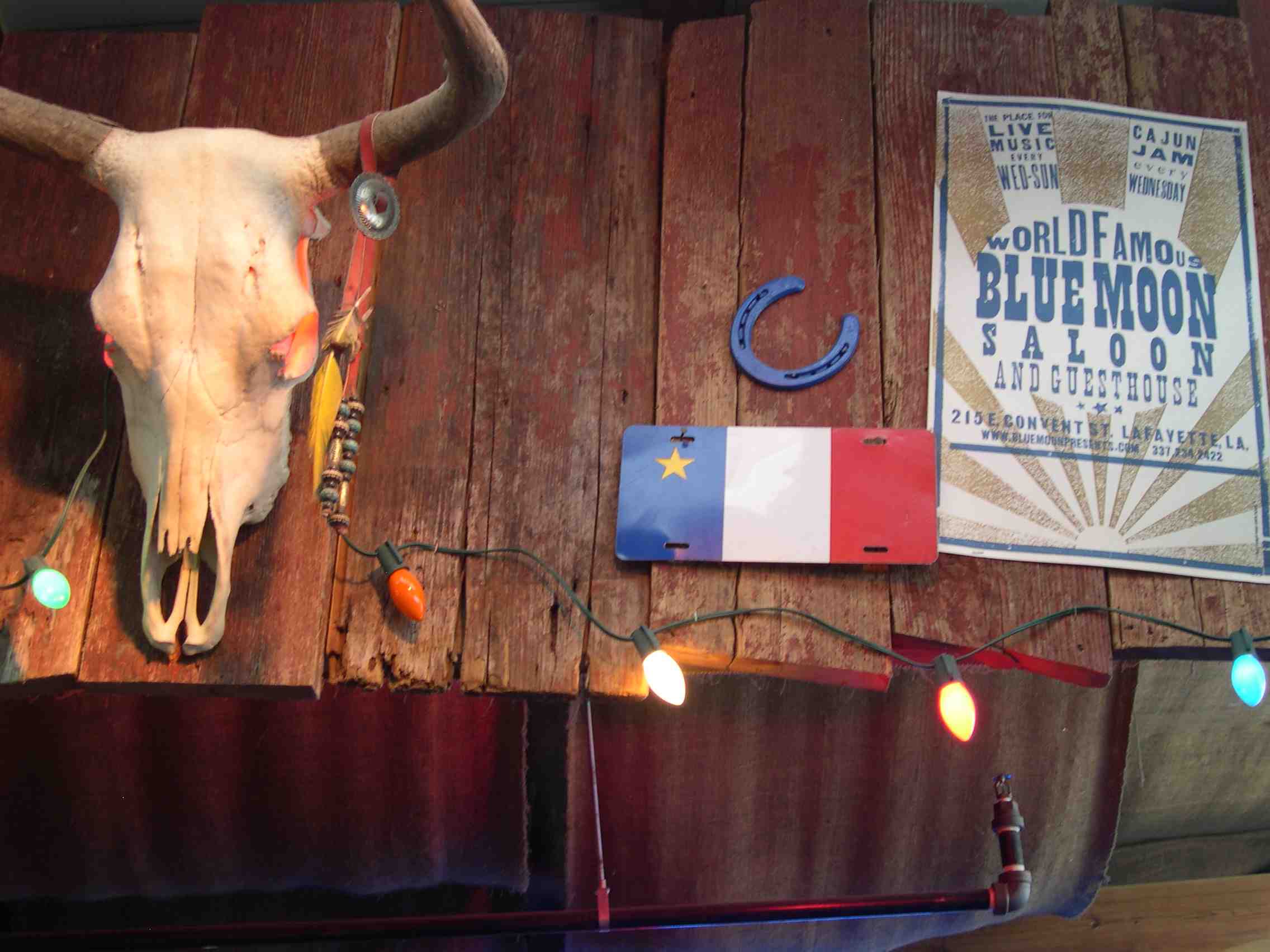 Funky wood walls with found and forged art, the Virgin Mary prays under ivy in the back yard, and the band plays on the porch.
It's hot and humid as we put our gear on-stage but we discover a cooler of ice and Abita beer is already waiting for us. They know how to welcome a band in Louisiana. The sound man tells us there's a good write up in the paper and there is. Instead of being thrown in the cosmic burrito bag this writer calls up Townes Van Zandt and Ray Wylie Hubbard. We're thrilled. Check out the full text here.As Tony and Kip set up the folks start to roll in. There's white folks and black folks and young folks and old folks. Frat boys and their girls. Serious dancers types who trade partners and keep their feet moving song after song during the Gilkyson/Boardman/Nourse power trio set. Military looking wives there by themselves.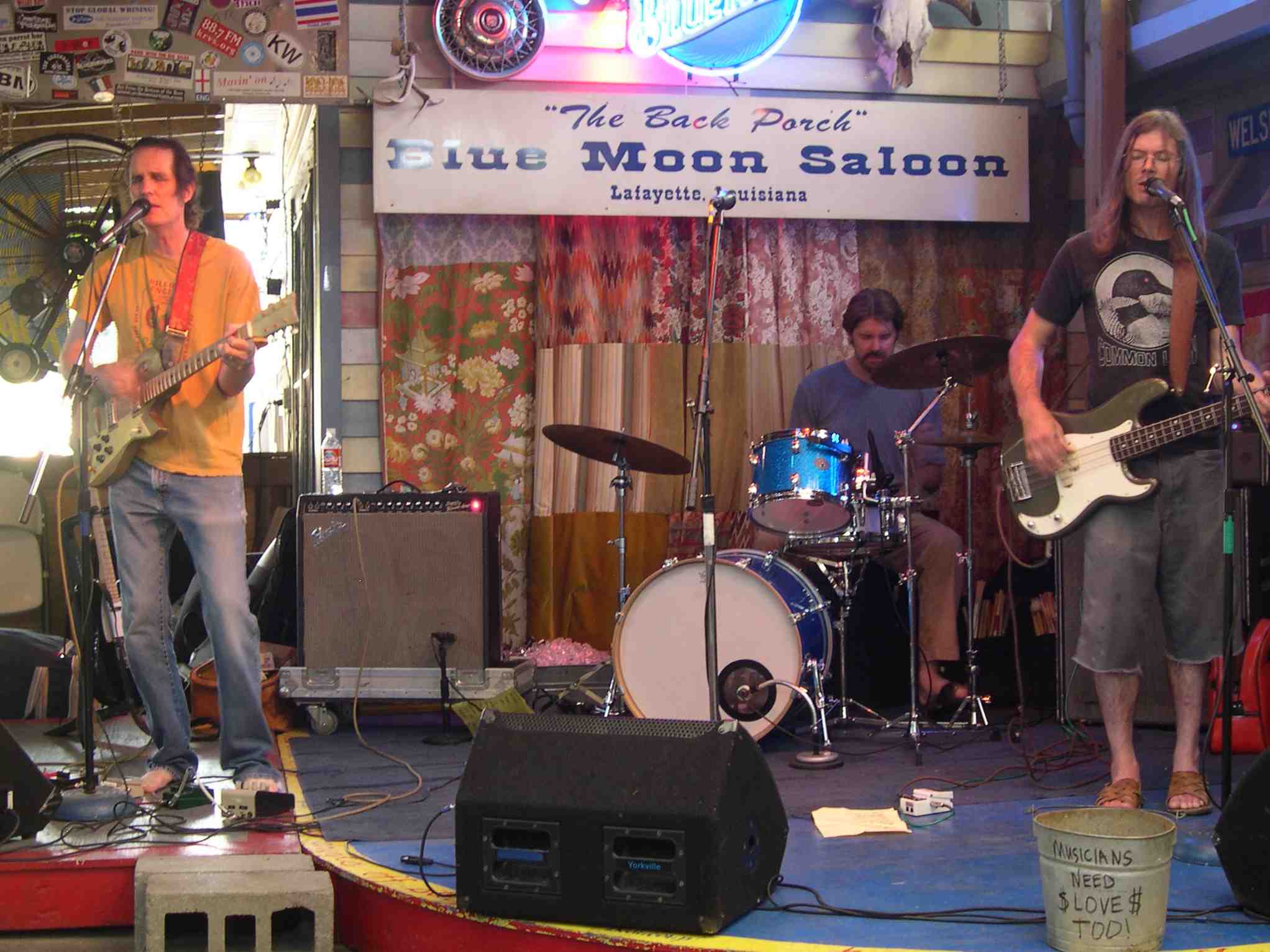 On stage there's a salvaged door scarred with the big red spraypaint FEMA "X" Someone has painted a New Orleans street scene on it in an effort to commemorate this great lost city and culture. You can really feel the loss and the pain just over the tops of the bayou trees.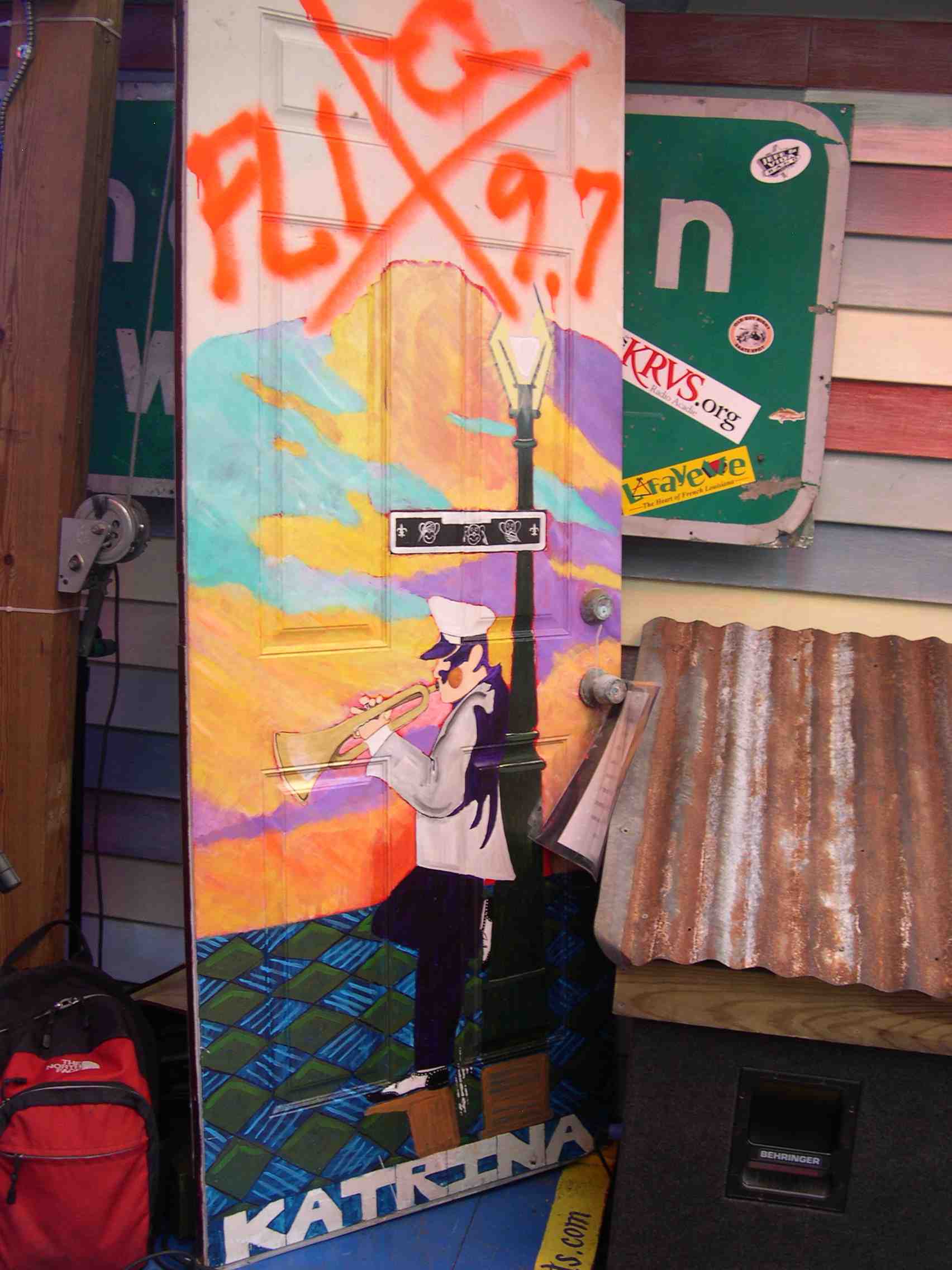 We realize early this crowd likes loud, long guitar solos. So we serve them up one after the other. We bring Tony up and he adds his thundering Super Reverb to the mix. Humboldt is particularly stirring and suddenly there's shots of whiskey being handed up on the stage. A dog wanders through and we sing him his tune. The owners have offered us accommodations in the band bunkhouse but we've got to get to Memphis to have the AC fixed the next morning. Reluctantly, we hit the road after a late night dinner of crawfish etouffee and rice. Paul L stays behind to enjoy the steamy Lafayette late night atmosphere.Paul, Kip, and Kip's GenXYZ cousin go on a late night walk through back streets of Lafayette, walk on campus, where there's a 5 acre swampette complete with 2 alligators, surrounded by classroom buildings. Kip's cousin regales us with tales of his volunteer work in New Orleans, living in a crazed modern hippie den with dreads, outsized egos, and altruism in the soup kitchen. It's hot and humid at 2 a.m., but the mosquitos aren't bad.
Next morning we meet the owners of the Blue Moon, a beautiful Cajun queen and her husband and her child. Their other lodger is a geologist with Halliburton. He's hopefully moderate in his political views as we drink coffee, says he believes change can happen through the electoral system. "Hey," says Cajun queen. "They're corporations, right? Shoot 'em. Just shoot 'em."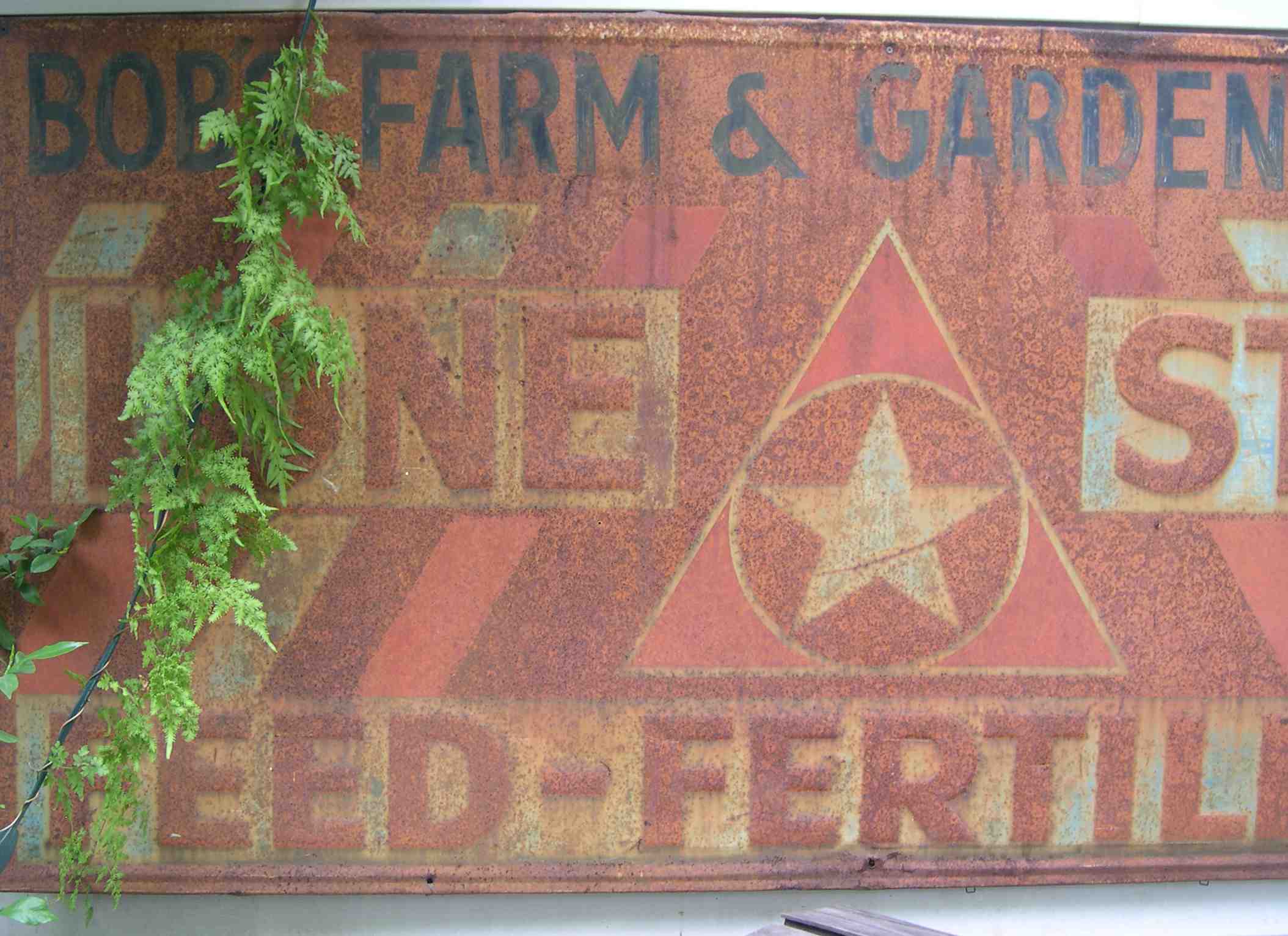 "Just shoot 'em," repeat Tony, Kip, and Paul, as they drive north through a highway tunneling through endless woods, bound for Memphis under muggy blue skies. A discussion ensues on the decline of regional differences and accents, and as if to prove the point, we pull off the highway seeking food. A fish store proprieter gives us directions in a Mississippi accent so thick that we can only nod in fake comprehension. Regionalism lives!