by Gary Miller
State of Mind Music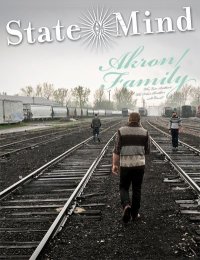 Link to full article
What's it like to be playing country, bluegrass, and Americana in Los Angeles in the 21st century? The name of the band I See Hawks in L.A. provides a clue. "A lot of people say there aren't hawks in LA.," says frontman Rob Waller. "It's because they don't look up in the sky. They aren't aware of the wildlife that's still very present in this concrete urban metropolis… As a band we're sort of a coyote or a hawk or some sort of wildlife that people don't think is still here but is."
Since its founding in 2000, the Hawks have enjoyed a status that's far from that of an endangered species. They've spun out an impressive series of albums, ranging in tone from old-timey jams to Byrdesque country rock and dark, noisy rock and roll. They've held a long-term residency at Cole's Bar in downtown L.A., toured both the US and Europe, and built a loyal following. Their new release Shoulda Been Gold (American Beat), celebrates this status, compiling the best of a decade's work into a "greatest hits" compilation that's worthy of the bigger audience its title ironically hints at–and is 100% hit-free.
Understanding how this all worked out means understanding California's tenuous yet tenacious connection to country music. The Great Depression and the Dust Bowl brought refugees by the thousands from Oklahoma, Texas, Kansas, and points east. These migrants came in search of a better life, and brought their music with them. In the 1950s, it evolved into the "Bakersfield Sound," stripped down honky-tonk played by the likes of Wynn Stewart, Buck Owens, and Merle Haggard. In the 1960s, acid-droppers like Gram Parsons, the Byrds, and Texan import Doug Sahm put a psychedelic twist on honky-tonk. They, in turn, were succeeded by new traditionalist Dwight Yoakam, punker John Doe, Blaster Dave Alvin, and the like.
So it wasn't entirely improbable that when Rob Waller moved to L.A. from San Francisco he carried his love of traditional bluegrass, country, rock and roll and three-part harmonies with him, or that he'd find people of a like mind to share that love.
Aptly, the Hawks' genesis involves a wilderness connection pilgrimage. In March 1999, Waller traveled to Vegas with drummer Anthony Lacques and his brother Paul, a guitarist. According to Waller, "Paul's girlfriend was with us and we went hiking in the Mojave Desert and we were running around and being boyish and she was lollygagging behind us and we lost her. And we were certain we would find her very quickly. At some point, somebody said, 'We should have a country band in Los Angeles named I See Hawks in L.A.' Then all of us agreed to it. I don't know why, but we did."
There was, of course, a happy ending. Hours later, the girlfriend emerged from the desert, seriously pissed off but unscathed. And I See Hawks in L.A. was born, at least as a concept. The first jam sessions wouldn't happen until the following year.
Still, forming a trad-based band in Los Angeles at the time, was a little bit, well… "Contrary." says Waller. "It was kind of like 'let's have an old-timey band in Los Angeles in the year 2000. I mean that seems kind of bizarre."
But the reception the band got was anything but contrary. "Country is obviously not the dominant music genre in LA, and that's not a surprise to anyone who's listening to music here and anyone who's making it," Waller says. "What was somewhat of a surprise was how people seemed to want the thing that we were doing." The band quickly gathered a core of loyal fans and, with the release of their debut CD in 2001, the critics jumped on board.
The band's original members included Waller on rhythm guitar and lead vocals, with Anthony Lacques on drums and Paul Lacques adding six-string and pedal steel. From the start, the band found two key anchors–vocal harmonies and the songwriting of Waller and Paul Lacques.
"To me it centers around Rob's voice," says Paul Lacques. "He has a very rich voice, and he's one of my favorite singers. So when we're working on a song, all our first inclination is to find a harmony part. Me and [current bass player] Paul Marshall have loved singing harmonies for decades, and I guess the first thing is, we jump in with harmonies. We've had harmonies on almost all of the songs we've recorded, so the choice becomes is it more heavily acoustic, or more heavily electric or totally acoustic or more hard-core electric. From there it just sort of builds organically. We just add tracks until it feels like it's done."
When they write songs, Lacques says, "It's usually me and Rob, and we've written a lot of songs with my brother [Paul] and a few with Paul Marshall, but we basically sit down and throw a lot of ideas around. There's a lot of laughing and goofing around and we sort of generate a lot of lyrics and then kind of turn to surgeons after that. We usually have way more lyrics than we need. So we have the fun first half, but the serious ending half. Anarchy, I would say, is the basic approach."
The result are tunes that reflect a variety of Americana influences.
Asked to name those, Paul Lacques generously acknowledges the impact of older artists like Merle Haggard and Buck Owens. But just as critical, he says, are contemporary players that the Hawks have shared stages and even toured with, including Mike Stinson, Randy Weeks, and Tony Gilkyson.
"We went to see Mike Stinson play and he's just got this classic honky-tonk throwdown country-rock sound and we said we gotta write some songs like [him]. It's such a fun vibe, and we kind of emulated it," Paul Lacques says.
Not only musicians but national events have shaped the Hawks's sound. The band's self-titled debut dropped on September 11, 2001. It was largely acoustic and a bit more mellow than later efforts.
"Things got kind of dark, says Waller. "September 11 and the Bush years definitely influenced us as songwriters. We are pretty connected with and interested in political realities. California Country (2006, Western Seeds Records), which had a dark cover, was kind of our most intense, loud, dark record. We wrote a lot of those songs after the invasion of Iraq. It's not that we [were] writing necessarily about those things directly, but I think that the energy that was coming off that stuff definitely influenced our mood and our sound."
Hallowed Ground (2008, Big Books Records) lowered the tension a little bit, but kept the focus on the bigger sound and the literate (and occasionally sardonic) lyrics that have become the band's stock in trade. Now comes Shoulda Been Gold, the hit-free hits album, which Waller views as somewhat emblematic of the state of music in decade 1 of the new century.
"We as a band, me as a musician, I think the culture of musicians [in general] is kind of getting over the idea of being a rock star. And if you think about it, the period of… being a rock star was pretty short in the history of music… from 1950 until about the year 2000 was the era of the rock star. And it was fuckin' great–for the rock stars, and for the music business. They made tons of money. It was the perfect storm of being able to record music really well and also being able to control the sale of recorded music.
About I See Hawks in L.A., he adds "We're not rock stars. But we're not isolated and totally obscure. We're somewhere in between. We can make records and play shows and we have certain regions where we have really good fan support and others where we don't. We have an audience for the music and they tell us what they like and what they don't like. And for the people who've been following the band for five or six or seven years, this really does feel like a greatest hits record, even though there's no magazine chart that says so."
For now, the Hawks are doing what they've always done–writing songs, doing some touring, and preparing to record another album. Musical outlaws in a city of concrete, they've found a niche they can call their own.